Travel information
How to reach Ghent:
By plane
The main Belgian airport, Brussels National Airport, is about 70 km away from Ghent. The easiest way to get from the airport to Ghent is by taking a train or taxi.
For flight details and travel information, see http://www.brusselsairport.be.
Another (budget) option is Charleroi Airport, also called Brussels-South Airport. To reach Ghent, you can take a shuttle from the airport, starting from €5 (see www.flibco.com). You could also take the Brussels City Shuttle from the airport, towards Brussel-Zuid/Bruxelles-Midi train station and continue to Ghent by train. Another option is to take bus A to train station Charleroi-Sud and to take a train there. If you do the latter, you can buy a ticket to "any Belgian train station" which includes the bus fee at the vending machines right outside the Airport (Entrance 2).
For flight details and travel information, http://www.charleroi-airport.com/en/brussels-south-charleroi-airport/index.html.
By train
International train services can bring you to Brussels (Eurostar from London, Thalys from Paris, etc.). Train timetables and online ticket sale can be found at https://www.b-europe.com.
From Brussels National Airport, there are frequent train services (basement level -1) to Ghent. You can either take a direct train to Gent-Sint-Pieters (directions De Panne or Brugge) or take the airport city express to one of the train stations in Brussels (Brussel-Zuid/Bruxelles-Midi, Brussel-Centraal/Bruxelles-Central, or Brussel-Noord/Bruxelles-Nord).
When you arive in a train station in Brussels, switch to an intercity (IC) train towards Ghent (directions Brugge, Knokke, Blankenberge, Oostende all stop in Ghent).
You can easily reach Ghent from other cities in Belgium by intercity trains as well. Train timetables and online ticket sale can be found at http://www.belgianrail.be/en/Default.aspx. There are two train stations in Ghent; Gent-Sint-Pieters is closest to the venue.
How to reach the venue:
Address
Het Pand
Onderbergen 1
9000 Gent
Belgium
tel. +32 (0)9 264 83 05
Website: http://www.ugent.be/het-pand/en/accessibility
By public transport
Once arrived at the train station, you can easily reach the venue by tram. Take tram 1 (every 6 minutes) towards the city centre and exit at Korenmarkt. It is then a 5-minute walk to the venue (see map below).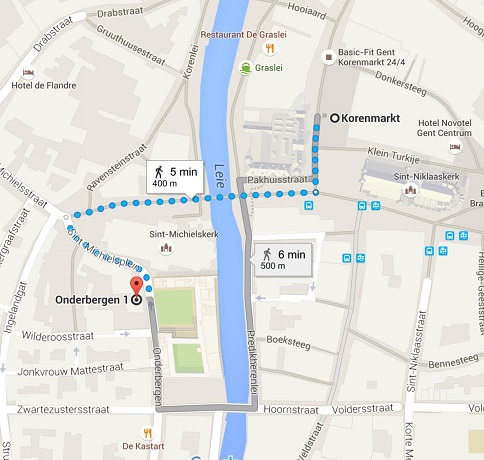 In case you arrive from elsewhere and your tram/bus stops at Gent Zuid, it is only a 15 min. walk from there.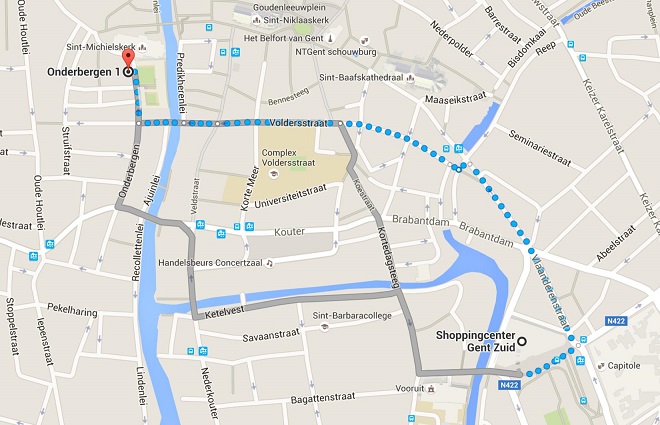 By car
Follow the parking signage to parking P7 Sint-Michiels. The parking is located at 50 meters from Het Pand. Take the exit Onderbergen and you come out in the Wilderoosstraat, opposite Het Pand. An alternative parking is P8 Ramen. From here, it is about 5 minutes on foot to Het Pand.
By taxi
Of course, you can take a taxi from the airport or from the bigger train stations such as Gent-Sint-Pieters. Taxis are always waiting at the entrance.